Wondering what to serve with chicken and waffles? Don't worry. I've got you covered. From regular macaroni & cheese to southern-style smoked gouda grits, sample these great side dishes for chicken and waffles. Here, you'll also find low-carb variations for some of your favorite classic comfort food dishes to help you indulge guiltlessly during holiday brunches or family dinners.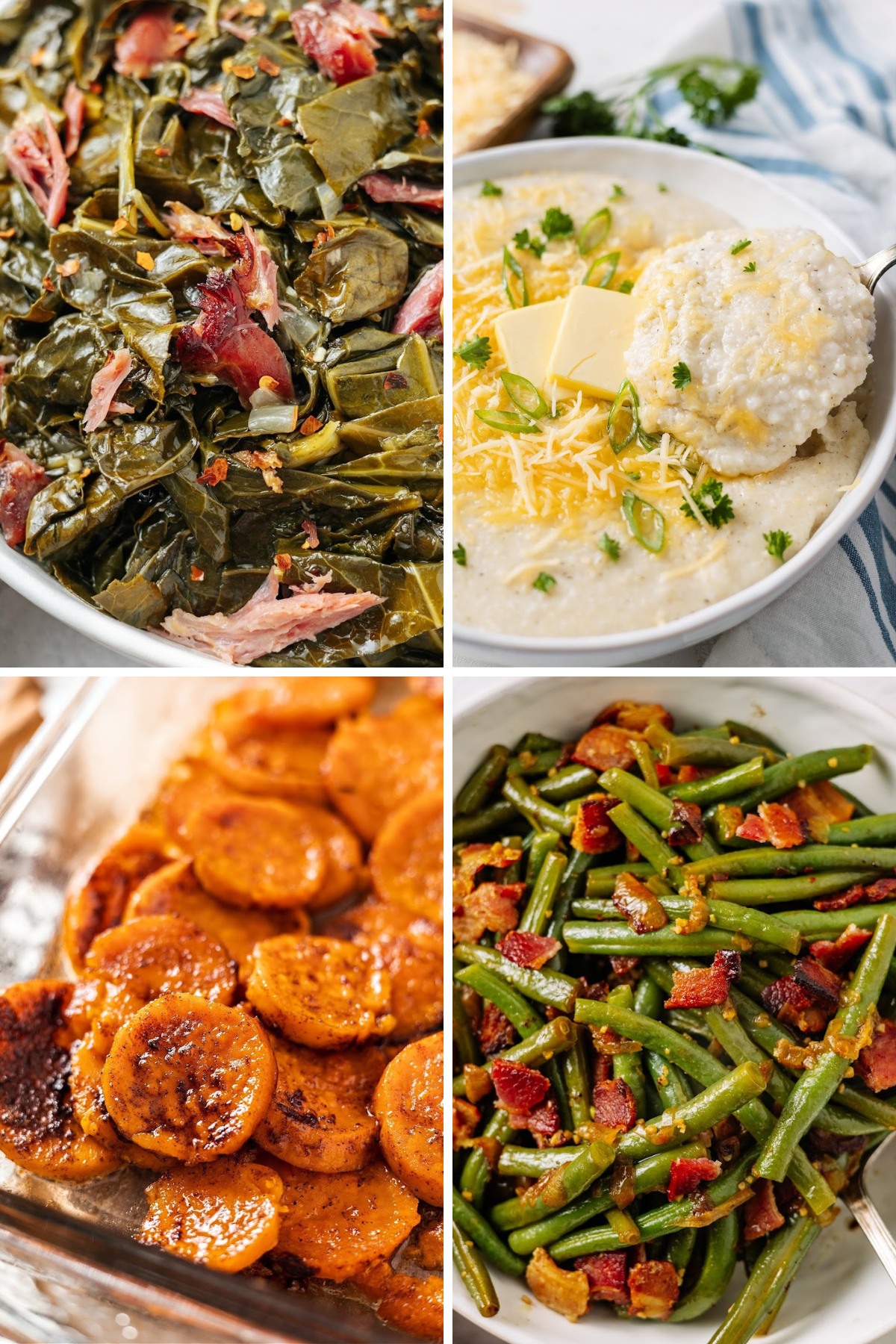 Why Share?
I'm sharing ideas to turn chicken and waffles into a complete meal with delicious comfort food dishes. Besides the best side dishes, you'll also find some drinks & toppings to make this main meal an extra special treat.
What Is Chicken and Waffles?
Fried chicken and waffles is a sweet & savory Southern main dish served for breakfast, brunch, or dinner.
Though they might sound like an odd combination, the mix of fluffy waffles with crisp pieces of chicken is the perfect meal.
As in the name, the main components of this popular dish are:
Crispy Fried Chicken Pieces: usually chicken thighs, chicken breasts, or chicken wings. Typically, you brine the chicken in buttermilk and hot sauce. Then, you coat them in seasoned flour before deep frying them until they are golden brown.
Belgian Waffles: includes either sweet or savory waffles. The batter tends to include things like all-purpose flour, separated egg whites and egg yolks, sugar, and melted butter or olive oil. These are typically made to serve (or order) in a preheated waffle iron.
More Southern Chicken Dinner Side Dish Ideas:
What to Serve with Chicken and Waffles
Find what to serve with chicken and waffles, a sweet and savory main course, with this collection of the best sides for chicken and waffles. From spicy collard greens to french fries and fresh fruit salad, I've got you covered with great options. Plus, get ideas for a few toppings and drinks that go with this southern dish.
FAQs
Why do people pair chicken and waffles?
The combination of sweet and savory flavors creates the perfect balance when you take a bite.
How are waffles traditionally served?
Traditionally, waffles are served for breakfast or brunch with toppings such as butter, syrup, fruit, or whipped cream.
Is chicken and waffles a dish?
Yes, chicken and waffles is a dish that originated in the American South.
Can you eat chicken and waffles cold?
While it's not common to eat chicken and waffles cold, it's possible to do so. However, the flavors and textures do not compare to when you eat it hot and fresh.