These leftover bbq chicken recipes will help you turn your bbq, smoked, and grilled chicken into an easy meal. From smoked chicken salad to barbecue chicken pizza, these are some of my favorite ways to make an easy dinner with simple ingredients.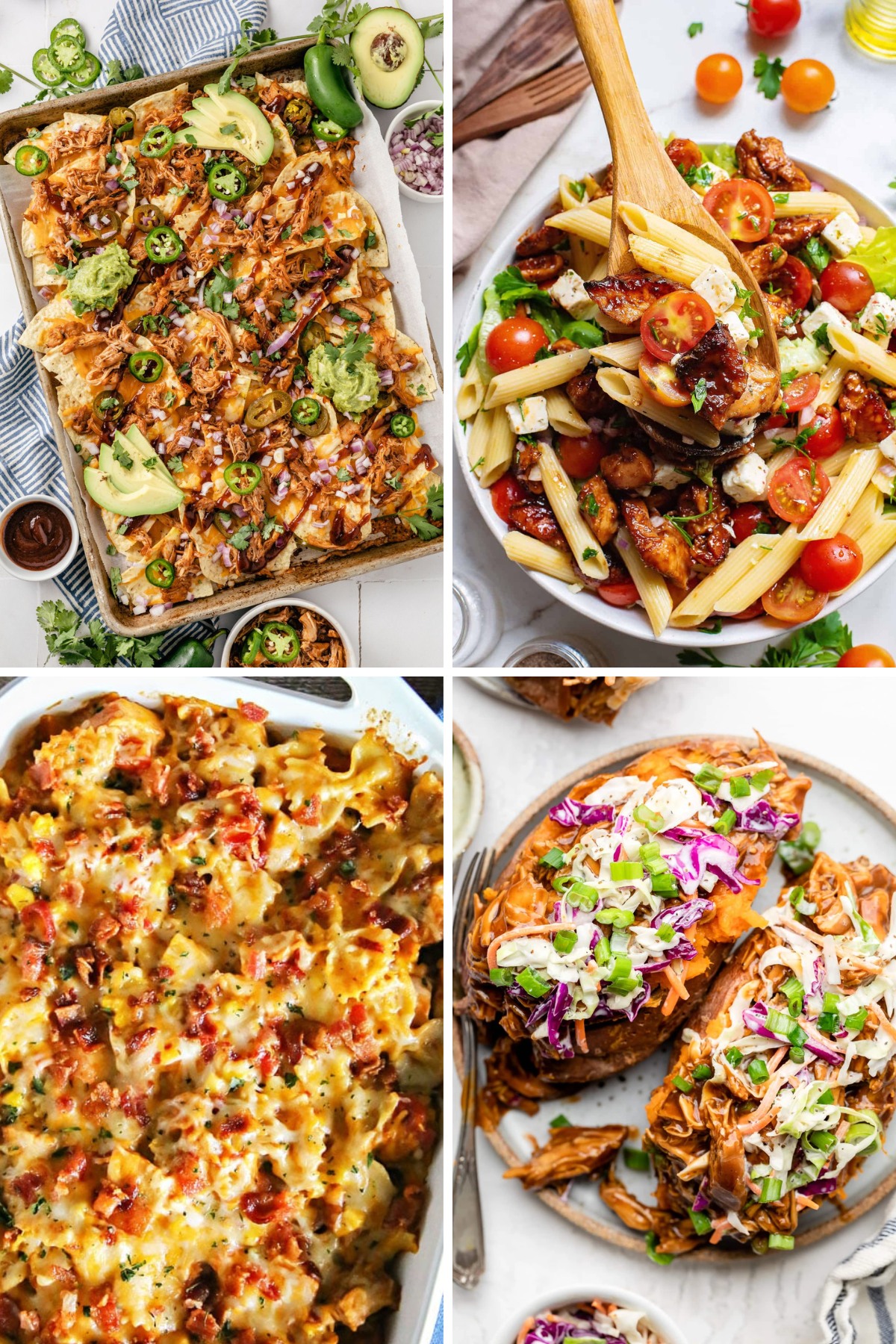 Bbq chicken is easy to make, tasty, and great for meal prep. However, nobody wants to eat the same thing repeatedly as it gets boring. In this post, I've compiled easy and captivating leftover barbecue chicken recipes to bring newness to your leftovers.
Learn how to make delightful dishes for lunch and dinner using bbq, smoked and grilled chicken leftovers.
Why Share?
BBQ chicken is great for meal prep, so I'm sharing ideas for lunch and dinner using the leftovers from recipes like instant pot shredded bbq chicken, Baked BBQ Chicken Thighs and air fryer bbq boneless chicken thighs.
Plus, get some ideas for using leftover smoked chicken and leftover grilled chicken that you make during bbq season.
Quick Chicken Dinner Recipe Ideas:
Leftover BBQ Chicken Recipes
These quick and easy leftover bbq chicken recipes will show you how to make a new meal with your bbq, grilled, and smoked chicken leftovers. Includes delicious options for lunch and dinner.
FAQs
What can I use BBQ chicken for?
BBQ chicken can be used for a variety of dishes such as sandwiches, tacos, salads, pizzas, sliders, wraps, and more.
How do you use leftover BBQ?
Leftover BBQ chicken can be used to make sandwiches, quesadillas, pizza toppings, soups, stews, salads, or mixed with rice and veggies for a quick meal.
What to serve with shredded BBQ chicken?
Shredded BBQ chicken pairs well with coleslaw, baked beans, mac and cheese, corn on the cob, potato salad, or roasted vegetables. You can get recipes for all of these in my collection of the best sides for bbq chicken.
What can I add to BBQ chicken to keep it moist?
To keep BBQ chicken moist, you can add more bbq sauce or chicken broth, baste it with sauce while cooking, or wrap it in foil during the cooking process. You can also cook the chicken at a lower temperature for a longer time to help retain moisture.