Learn how to cut chicken wings into parts using this easy step-by-step process. It's the best way to serve everyone's favorite piece of chicken without giving everyone whole wings.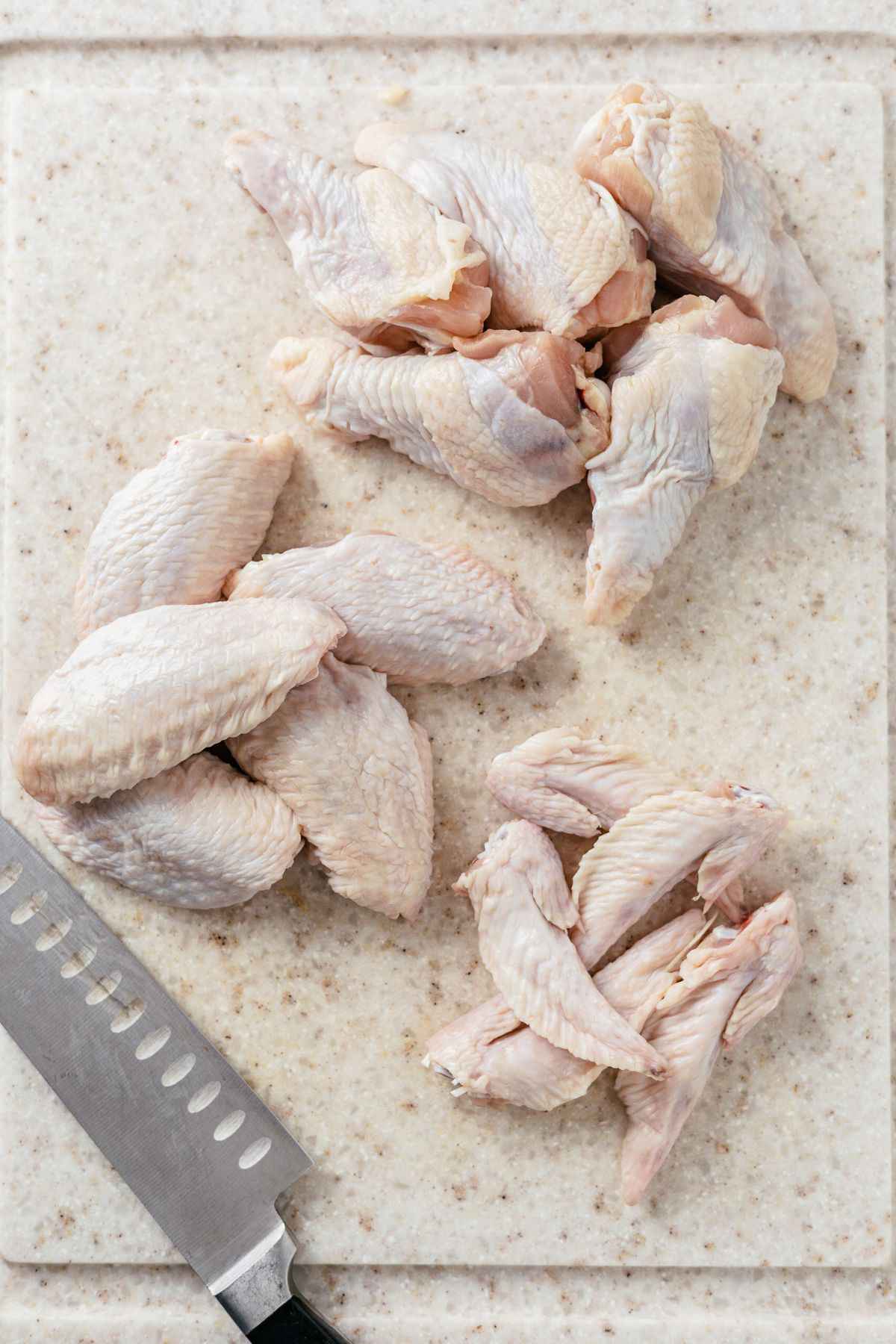 Why Cut Up Chicken Wings
Smaller chicken wing pieces: This simple process is perfect if you have whole chicken wings and don't want to cook them as they are.
Easy and quick: You don't need special knife skills to break up your own chicken wings. I'll guide you using a hassle-free, proper technique.
Personal preference: not everyone enjoys the entire wing. Some people also strongly prefer one part of the wing over another. So, cutting them into individual pieces allows your family and guests to choose.
Tastes better than frozen: you can buy pre-cut wings from the freezer section in most grocery stores. Even though the different sections are individually frozen, I find that raw wings taste better.
What You Need
Whole chicken wings: I get fresh chicken wings from my local grocery store. If your wings are frozen, be sure to thaw them out completely.
A sharp chef's knife or kitchen scissors: this makes getting a clean cut a breeze. They are also usually sharp enough to cut through the chicken safely.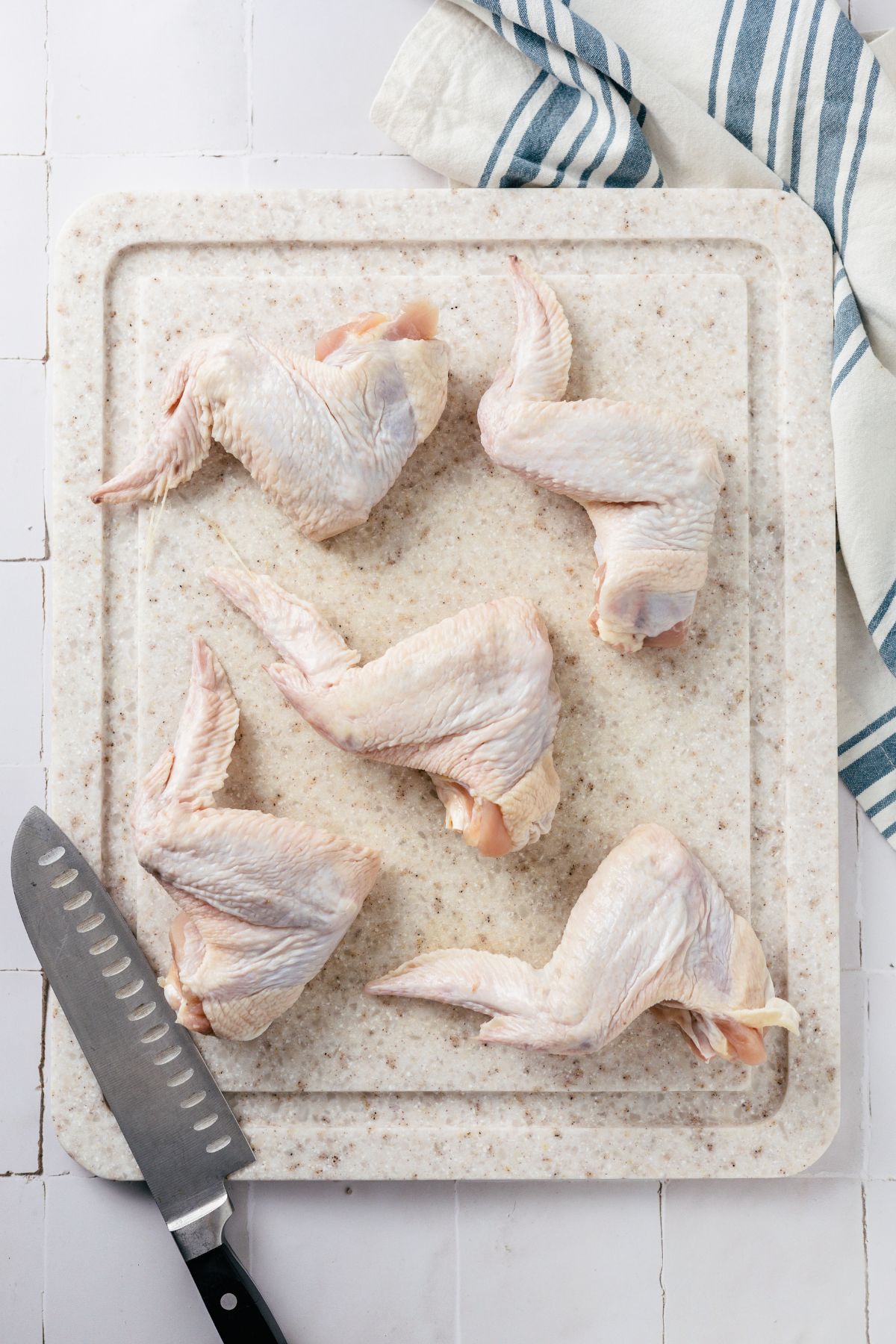 Three Chicken Wing Parts
A whole wing is made of 3 main parts. The easy steps in this tutorial are meant to help you break a wing into those parts.
1. Drum (Drumette)
Shaped like a drumstick, this part is attached to the main body of a chicken. It's usually dark meat with a major bone in the middle and supporting cartilage on the sides.
A drum/drumette starts thick, then narrows off towards the middle of the wing. It has more meat than the other parts of the wing, which make it a personal and party favorite.
2. Flat/Wingette
The flat/wingette comes right after the drum and looks flat, just like the name suggests. This is the middle part of a chicken wing with two small longitudinal bones supporting it.
3. Wing tip
The wing tip is the third part of a wing with mostly skin, cartilage, and hardly any meat. It takes the shape of a feather and is also called the flapper.
How To Cut A Whole Chicken Wing
Here's how to cut chicken wings accurately without breaking a sweat:
Lay the chicken wing on a cutting board and stretch it so that the joints are easier to see.
Use a sharp knife or kitchen shears to cut off the drum at the joint and set it aside.
Cut off the flat at the joint and set it aside.
Remove the wing tip and discard (or use it to make chicken stock).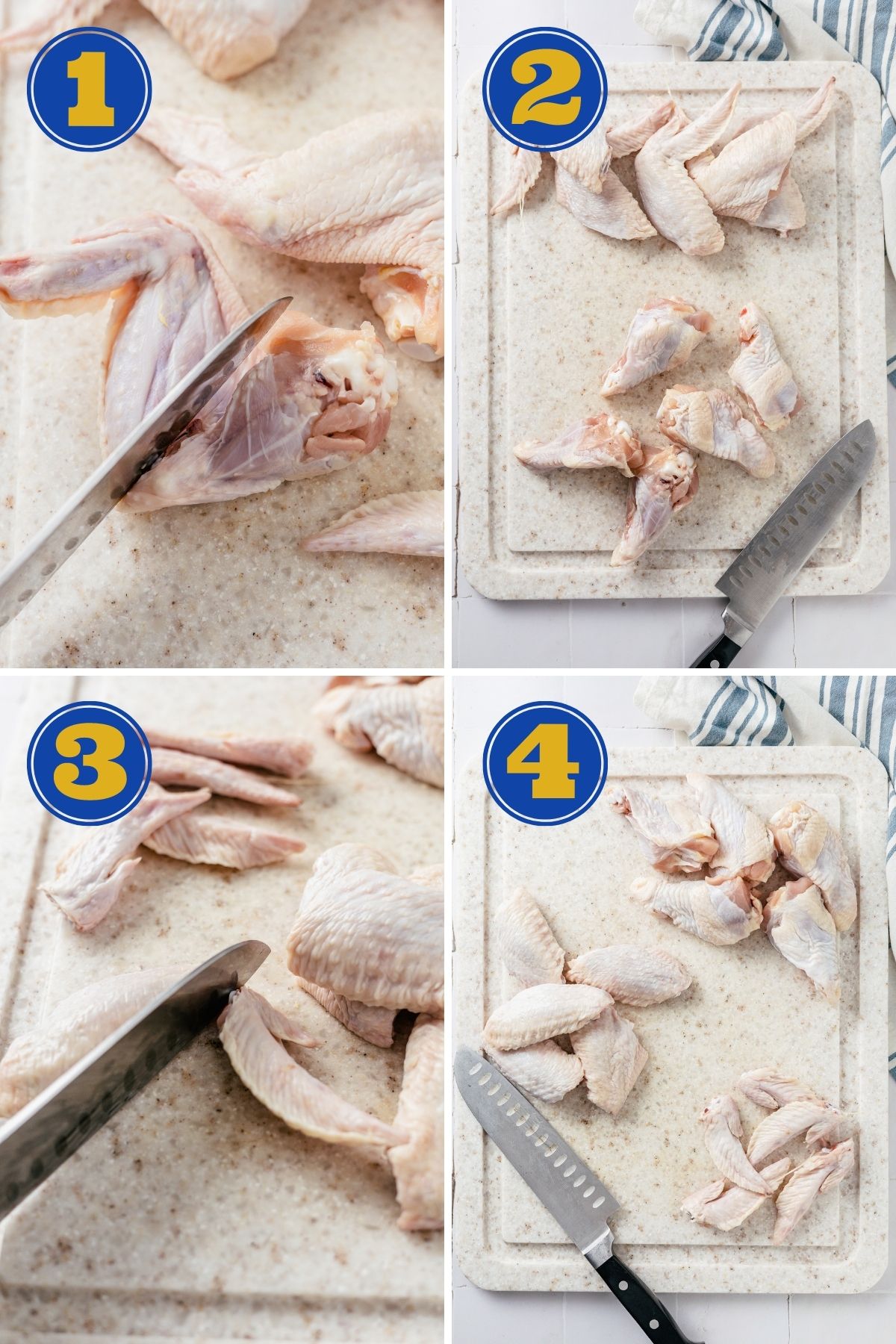 Tips & FAQs
Use a sharp knife or kitchen shear to make the cuts easily: Dull knives are no good in the kitchen. So, sharpen your knife if it seems tough to cut through the sections or if there's a lot of resistance.
Pat the wings dry with a paper towel if they're moist and slippery and place the wings on a chopping board to give them a proper grip.
Flip the wings and stretch them to see the joints clearly.
Ensure you locate and cut through the joints.
Storage
If you want to save your cut wings for next time, simply add them to an airtight container and use them up within 2 days.
How do you cut chicken wing bones?
You don't need to cut the bones when separating the wing parts. Simply locate the joints and cut through them.
What part of chicken wing do you cut?
Cut through the two joints to separate the three parts of a chicken wing.
Can you cut chicken wings with scissors?
Yes, but kitchen scissors since they are sharper than regular scissors.
Uses For Chicken Wing Tips
After separating the wing parts, some people discard the tip. It has less meat and honestly seems useless. But, you don't have to throw them away.
Below are some different ways to use the wing tip.
Make chicken stock (chicken broth)
Put water in a pot and add the chicken wing tips.
Add onions and fresh herbs like parsley, bay leaves, thyme, and garlic (you can also add vegetables like carrots, tomatoes, and celery to make the stock richer).
Add chili and ginger to spice it up (optional)
Cook your stock over medium heat until bubbles start to surface, then reduce the heat and simmer for 3-4 hours (stir every 30 minutes to skim the stock and remove the scum).
Eat them
Cut your wings into 2 parts (instead of 3) and prepare them as you would normally.
Cut Up Chicken Wing Recipes
Now that you know how to cut whole chicken wings, it's time to try some of the best chicken wing recipes.
Ninja Foodi Chicken Wings: an easy recipe for chicken wings in the Ninja Foodi air fryer
Wet Lemon Pepper Wings: These are the perfect finger-food treats, any day. Lemon pepper seasoning delivers the extra punch.
Honey Buffalo Wings: top your favorite fried chicken recipe with my easy honey buffalo wing sauce.
Marinated chicken wings: This recipe uses drums and flats. The results are tender, juicy, and perfectly crispy.
Sweet Chili Wings: If you love Asian flavors, here's your treat. These wings are a perfect blend of sweet and spicy. I use my homemade sweet chili sauce, but store-bought sauces also work.
Oven fried chicken wings: Enjoy fried-chicken flavors without making deep-fried wings. They have the crispiest skin and are a great healthy option.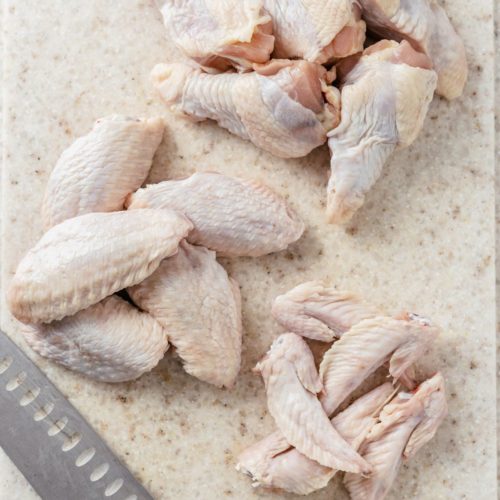 How to Cut Chicken Wings
Learn how to cut chicken wings into parts using a kitchen knife or shears.
Equipment
Sharp knife

or kitchen scissors
Ingredients
1.5

lb

Chicken Wings

whole chicken wings
Instructions
Lay the chicken wing on a cutting board and stretch it so that the joints are easier to see.

Use a sharp knife or kitchen shears to cut off the drum at the joint and set it aside.

Cut off the flat at the joint and set it aside.

Remove the wing tip and discard (or make stock)
Nutrition
Calories:
163
kcal
|
Protein:
13
g
|
Fat:
12
g
|
Saturated Fat:
3
g
|
Polyunsaturated Fat:
2
g
|
Monounsaturated Fat:
5
g
|
Trans Fat:
0.1
g
|
Cholesterol:
57
mg
|
Sodium:
54
mg
|
Potassium:
115
mg
|
Vitamin A:
108
IU
|
Vitamin C:
1
mg
|
Calcium:
9
mg
|
Iron:
1
mg