These wet lemon pepper wings are tender and juicy, but perfectly crispy on the outside. I use a three-ingredient buttery lemon pepper sauce and other simple ingredients to make the best lemon pepper chicken wings in the oven.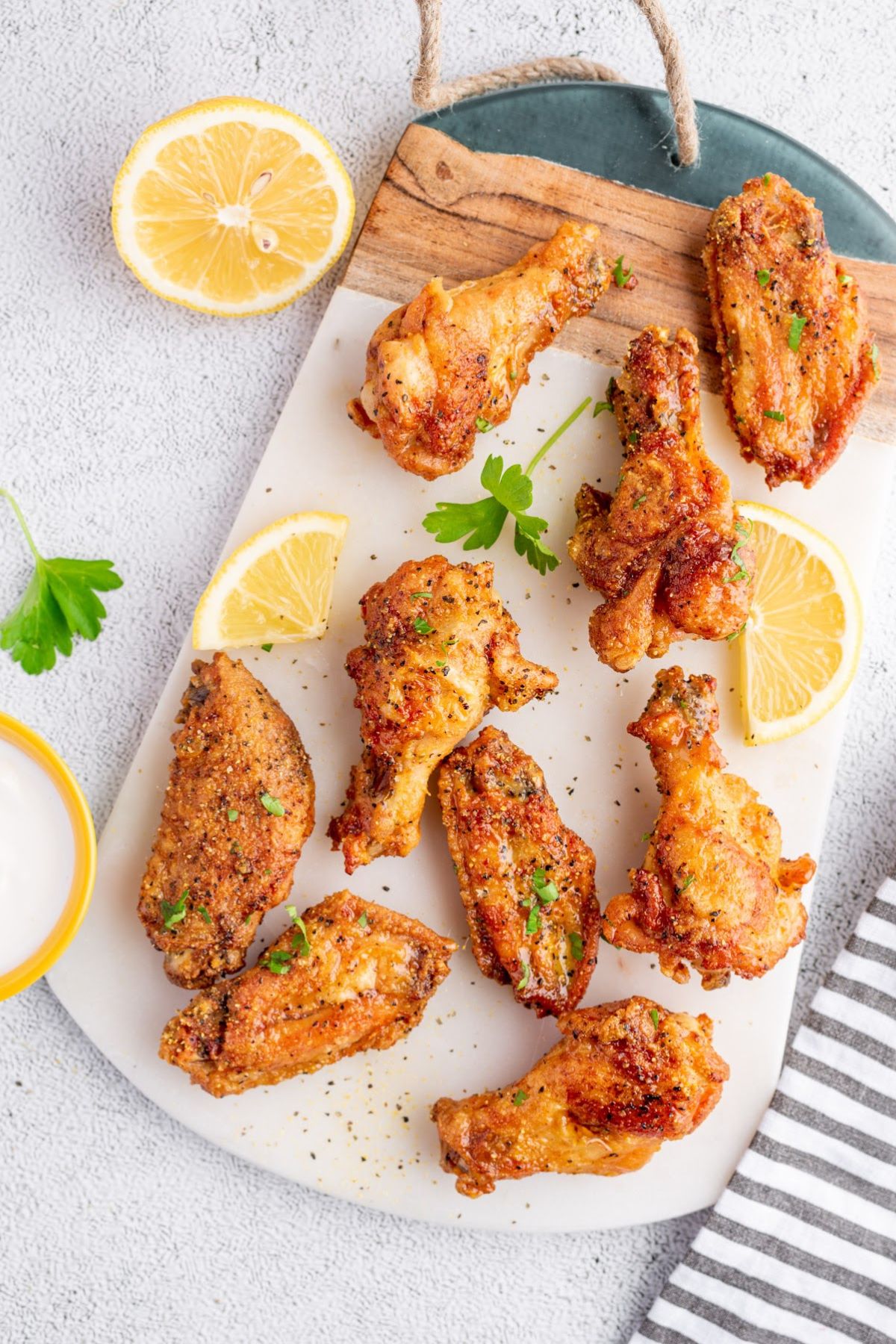 Why Make These
Easy Recipe: these lemon pepper wet wings only take about 5 minutes of prep before they are cooked in the oven. Plus, you probably have most of the ingredients in your pantry and spice cabinet.
Crispy and Baked: Many lemon pepper wing recipes call for deep frying your chicken wings. I'll show you how to make lemon pepper wings with extra crispy skin in the oven without flour or cornstarch.
Make takeout favorites at home: making copycat lemon pepper wings at home is the best way to eat on a budget.
Healthier option: making homemade lemon pepper wings in the oven requires less oil than cooking them in the deep fryer.
Ingredients Needed
Here are all the ingredients that you need to make baked lemon pepper wings.
See the full recipe card at the bottom for ingredient amounts and step-by-step instructions.
For the Wings:
Chicken wings – I am using pre-cut party wings, but if you have whole chicken wings, you can learn how to cut chicken wings into the flat, drum, and wing tips with my tutorial.
Baking powder: this allows the chicken wing skin to become crisp without causing the meat to dry out.
Black pepper – For best results, use freshly-cracked black pepper.
Smoked paprika
Garlic powder
Onion powder
For the Lemon Pepper Sauce:
Lemon pepper seasoning: I use a salt-free lemon pepper seasoning to be able to adjust the salt to taste. I get mine from the store, but you can also use this homemade lemon pepper seasoning blend that uses lemon zest.
Butter – I use unsalted melted butter
Lemon juice – I'm using fresh lemon juice.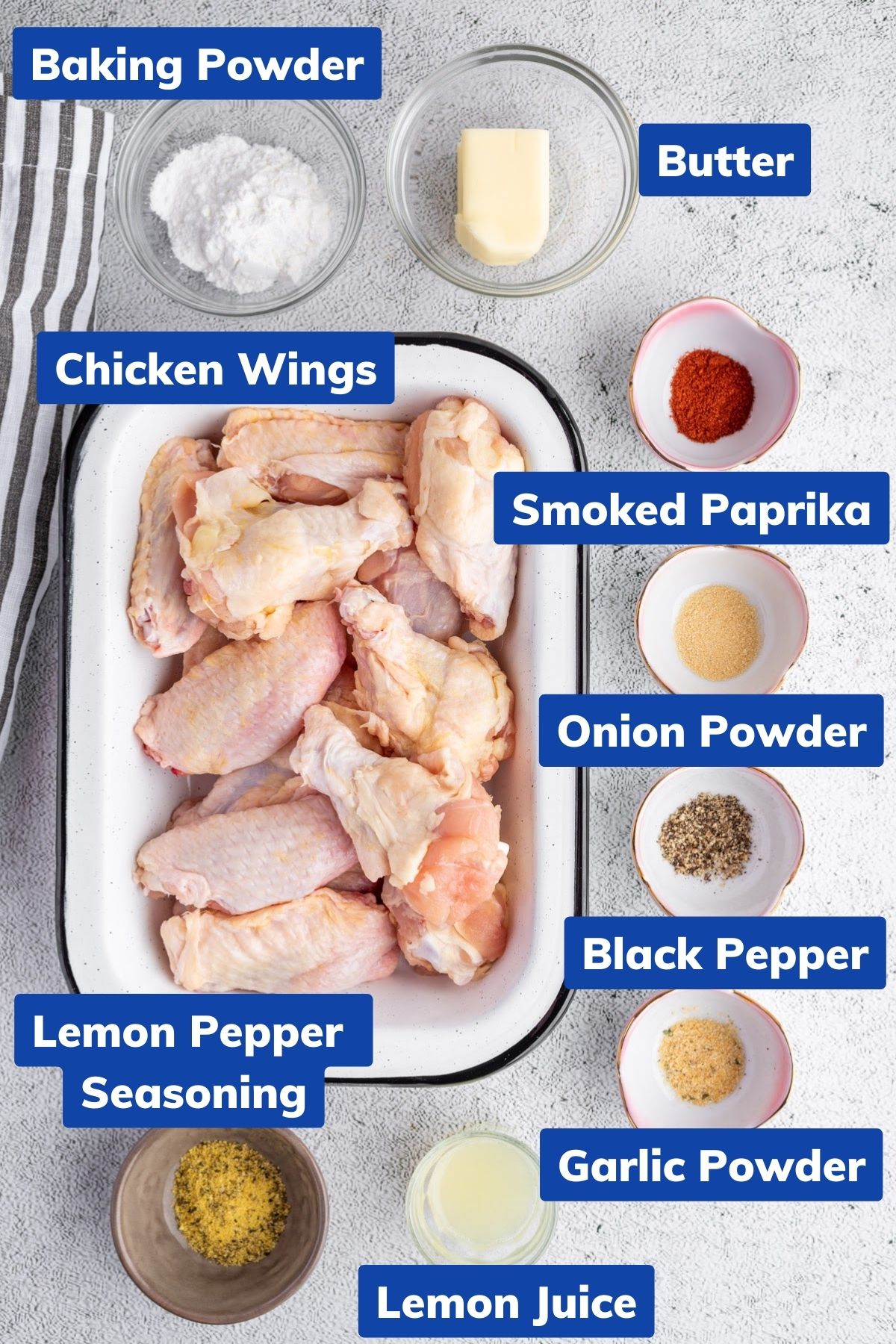 How to Make Wet Lemon Pepper Wings
Prep the wings and preheat the oven: Remove the wings from the fridge, and pat them dry with paper towels. I mix the spice rub in a small bowl and toss the wings in it until they are evenly coated.
Add the wings to a baking sheet. Line a baking sheet with parchment paper, or place a wire rack on it. Add the coated chicken wings on top in a single layer.
Bake. Add the wings to the oven and bake for 20-25 minutes, then flip them. Bake for an additional 20-25 minutes.
Make the sauce & toss the crispy wings in it. Add all the sauce ingredients into a bowl and stir to combine. When the wings come out of the oven, toss them with the sauce. Serve while hot.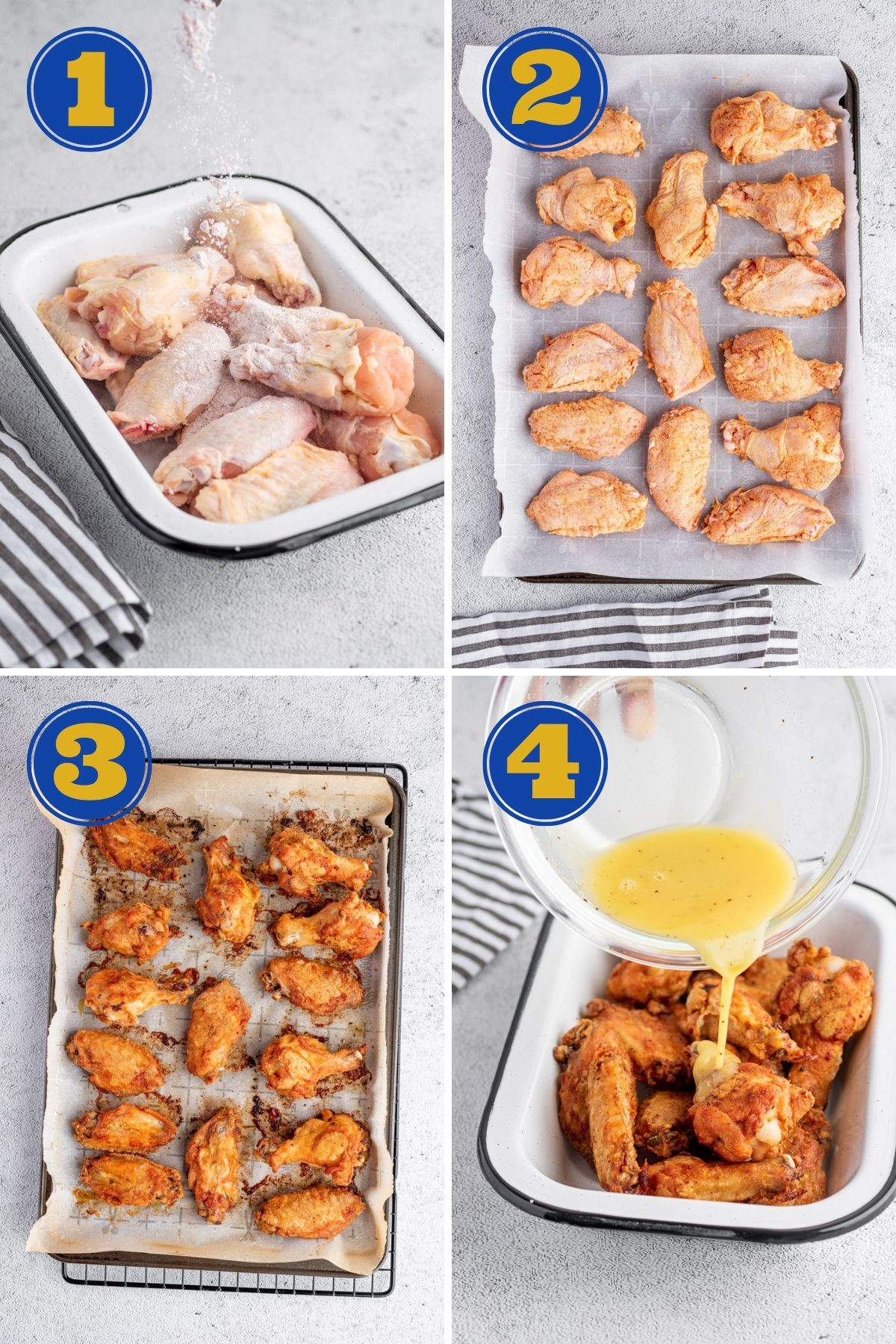 Tips and Variations
Here are a few tricks and variations to make the best baked wet lemon pepper chicken wings.
Use room temperature wings: For best results, remove the wings from the fridge about 30 minutes before using them. Using room temperature wings will make them even juicier when you bake them.
Thoroughly dry the wings: When drying the wings, make sure to do a very thorough job. Use a paper towel to dry every nook and cranny. The more dry the wings, the crispier they'll get in the oven.
Don't crowd the wings: Make sure that the wings are not crowded on the baking sheet. They should not be touching each other. If the wings are touching, they won't be able to get crispy. If you have too many wings for your baking sheet, use a second baking sheet, or cook in batches.
Add a sweet and/or spicy kick: you can make the sauce sweet or hot by adding some additional ingredients like buffalo sauce, honey, brown sugar and more. When adjusting the sauce, feel free to add one teaspoon at a time or use one of the recipes before for specific instructions.
How to Store and Reheat Leftovers
Leftover lemon pepper wings can be stored in an airtight container in the fridge for 3 days. Reheat them in a 350F oven for 15-20 minutes.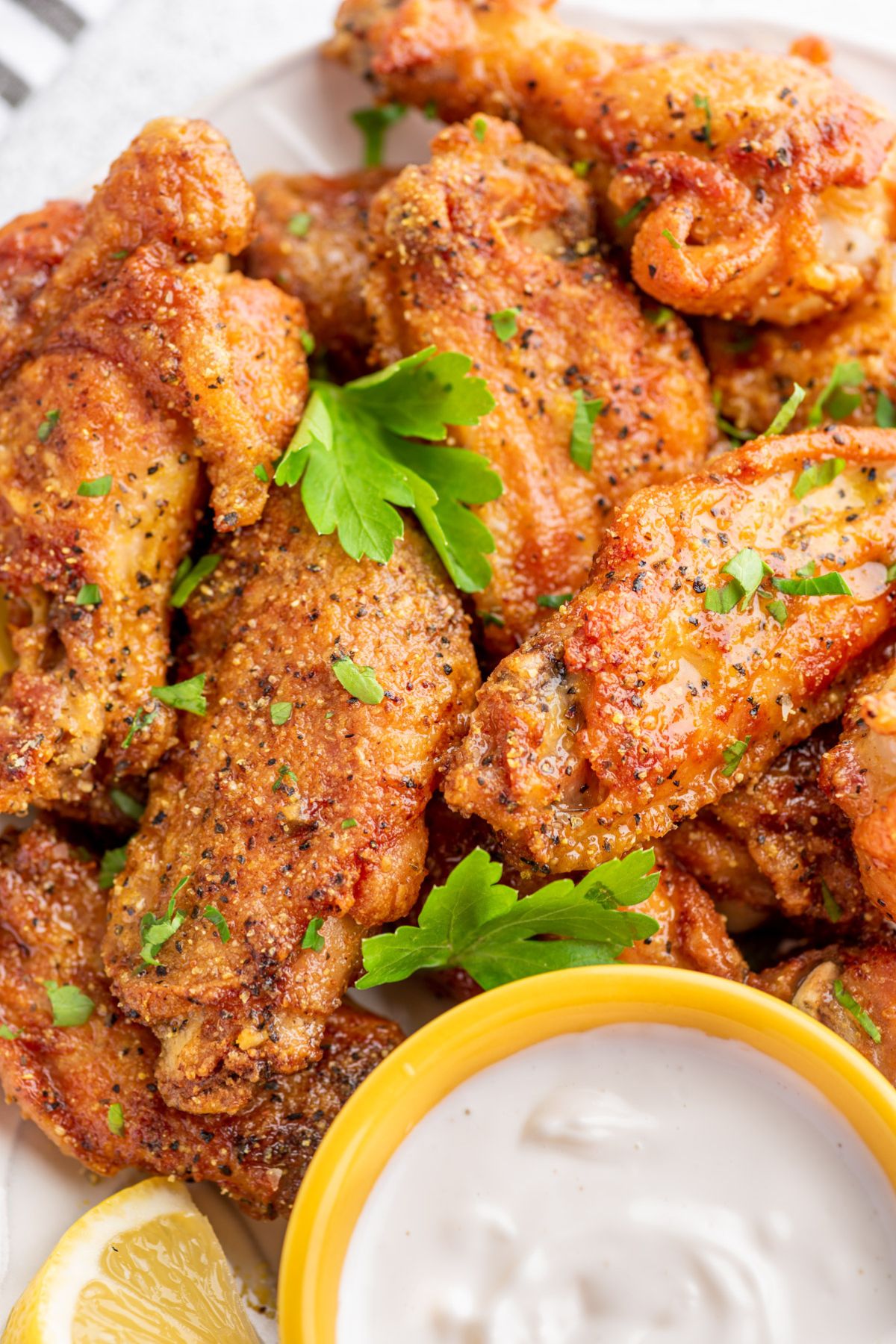 FAQs
How long should you bake chicken wings?
Chicken wings are cooked when the internal temperature reaches 165 degrees. I cook to cook mine a bit more to get them crispy.
What is the secret to crispy chicken wings?
If you want to make crispy baked wings, then the secret is to use baking powder. For crisp wings that don't use baking powder, using a broiler to brown the skin also helps.
Should you cover wings when baking?
No. You do not need to cover the wings. Covering the wings will create steam and prevent them from being crispy.
What temperature is best for cooking wings?
I bake my lemon pepper wings at 425 degrees in the oven.
More Wet Lemon Pepper Chicken Wing Recipes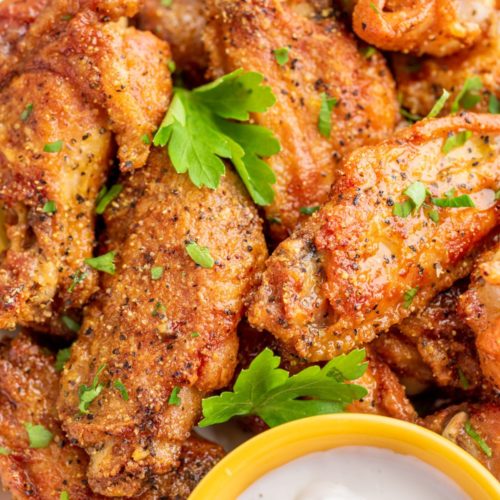 Wet Lemon Pepper Wings
Learn how to make the best wet lemon pepper chicken wings in the oven with this easy recipe. Includes simple ingredients and a three ingredient lemon pepper sauce or dry rub.
Ingredients
Lemon Pepper Sauce
3

tbsp

butter

melted

1.5

tsp

lemon juice

2

tsp

lemon pepper seasoning
Crispy Baked Chicken Wings
1.5

lb

Chicken Wings

1.5

tbsp

Baking Powder

1/2

tsp

Black Pepper

1/2

tsp

Smoked Paprika

1/2

tsp

Garlic Powder

1/2

tsp

Onion Powder
Instructions
For the Baked Wings
Preheat the oven to 425 degrees.

Use paper towels to pat the chicken wings dry (removing as much moisture as possible helps to have a crispy wing skin).

Mix the sea salt, black pepper, smoked paprika, garlic powder, onion powder and baking powder in a small bowl.

Sprinkle the seasoning mixture on the wings and toss the wings to coat.

Place wings on a parchment-paper lined baking sheet or a baking sheet with a cooling rack.

Cook the wings in the oven for 20-25 minutes per side.
For the Lemon Pepper Sauce:
Add all ingredients to a microwave safe bowl.

Toss the wings in the sauce and serve immediately.

Optional: top with more lemon pepper seasoning before serving.
Nutrition
Calories:
383
kcal
|
Carbohydrates:
4
g
|
Protein:
23
g
|
Fat:
31
g
|
Saturated Fat:
13
g
|
Polyunsaturated Fat:
5
g
|
Monounsaturated Fat:
11
g
|
Trans Fat:
1
g
|
Cholesterol:
124
mg
|
Sodium:
1204
mg
|
Potassium:
233
mg
|
Fiber:
1
g
|
Sugar:
0.2
g
|
Vitamin A:
702
IU
|
Vitamin C:
2
mg
|
Calcium:
379
mg
|
Iron:
2
mg