What are the best sides for chicken Alfredo? If that question led you here, you're in the right place. Also, if you're generally looking for what to serve with chicken alfredo, I've got you covered. This post compiles easy and mouth-watering side dishes for chicken alfredo, from breads to veggies and pasta. You'll also find appetizers and desserts to start and end your meals.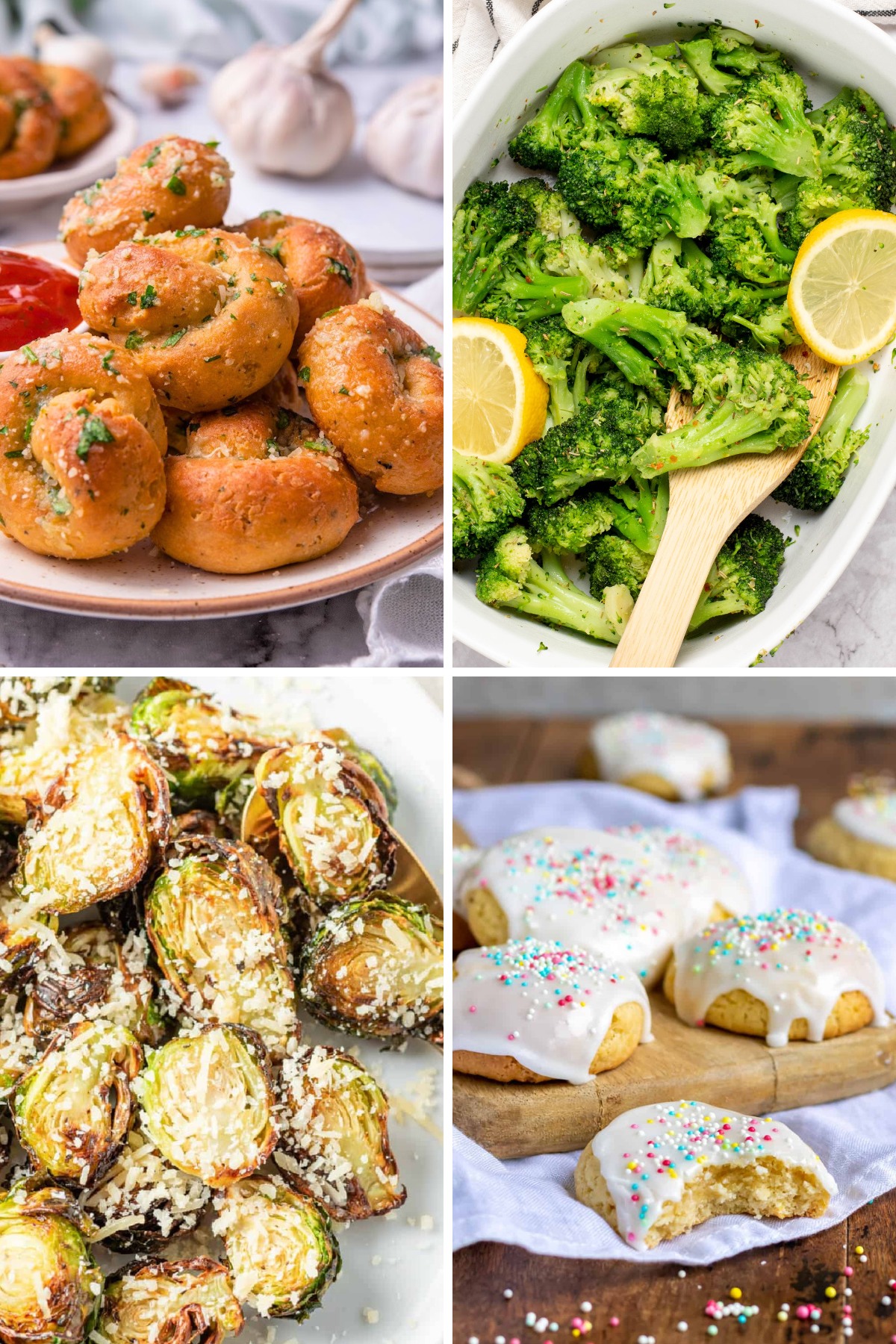 Why Share?
Chicken Alfredo is a classic Italian dish made with boneless chicken breast, creamy alfredo sauce (made with heavy cream, butter, garlic cloves, parmesan cheese, cream cheese, and spices like Italian seasoning and black pepper) and pasta.
Lighter options like my keto chicken alfredo casserole includes green vegetables like broccoli.
This creamy pasta dish seems like it should be a complete meal, but, it's not meant to be.
So, this collection provides tips to make chicken fettuccine alfredo a meal.
Here, you'll find appetizers, breads, vegetable side dishes, pasta options besides fettuccine noodles, and desserts.
More Italian Chicken Dinner Ideas:
If you enjoy this collection of the best sides for chicken alfredo, then you'll also enjoy these:
Best Sides For Chicken Alfredo
Get the best sides for chicken alfredo with this recipe collection. From breads to vegetable side dishes, and pasta besides fettuccine noodles, these recipes will give you tips on what to serve with chicken alfredo to make a complete meal.
FAQs
What can I eat with pasta besides salad?
There are endless options of side dishes to enjoy with pasta. Some of the options in this collection include vegetable side dishes like grilled, air fried, or roasted vegetables, bread, and dips.
Is chicken Alfredo good for you to eat?
This depends on your overall goals. The sauce includes things like butter, cream, and cheese. So, one way to enjoy it with fewer calories and carbs is to make it a bake with vegetables instead of pasta. You can also use things like my spaghetti squash using this spaghetti squash with chicken alfredo recipe. One recipe is this keto chicken alfredo.
Can you eat chicken Alfredo and still lose weight?
As mentioned above, this depends on your overall goals and eating plan. For example, someone on a keto diet, might omit the pasta. Another person might make it fit into their eating plan by finding healthier alternatives to the butter and cream.
Is Alfredo or tomato sauce healthier?
Alfredo sauce is made with heavy cream, cheeses like cream cheese and parmesan cheese, and butter. So, tomato sauce has fewer calories and fat than Alfredo sauce. With that, many find that tomato sauce is generally healthier than Alfredo sauce.