Stuck on what to serve with chicken marsala? These chicken marsala sides are the perfect match for this popular Italian-American dish. You'll find everything including garlic bread, parmesan risotto, appetizers, vegetable side dishes, and creamy polenta. Turn this favorite main course into a chicken marsala meal with these easy recipes.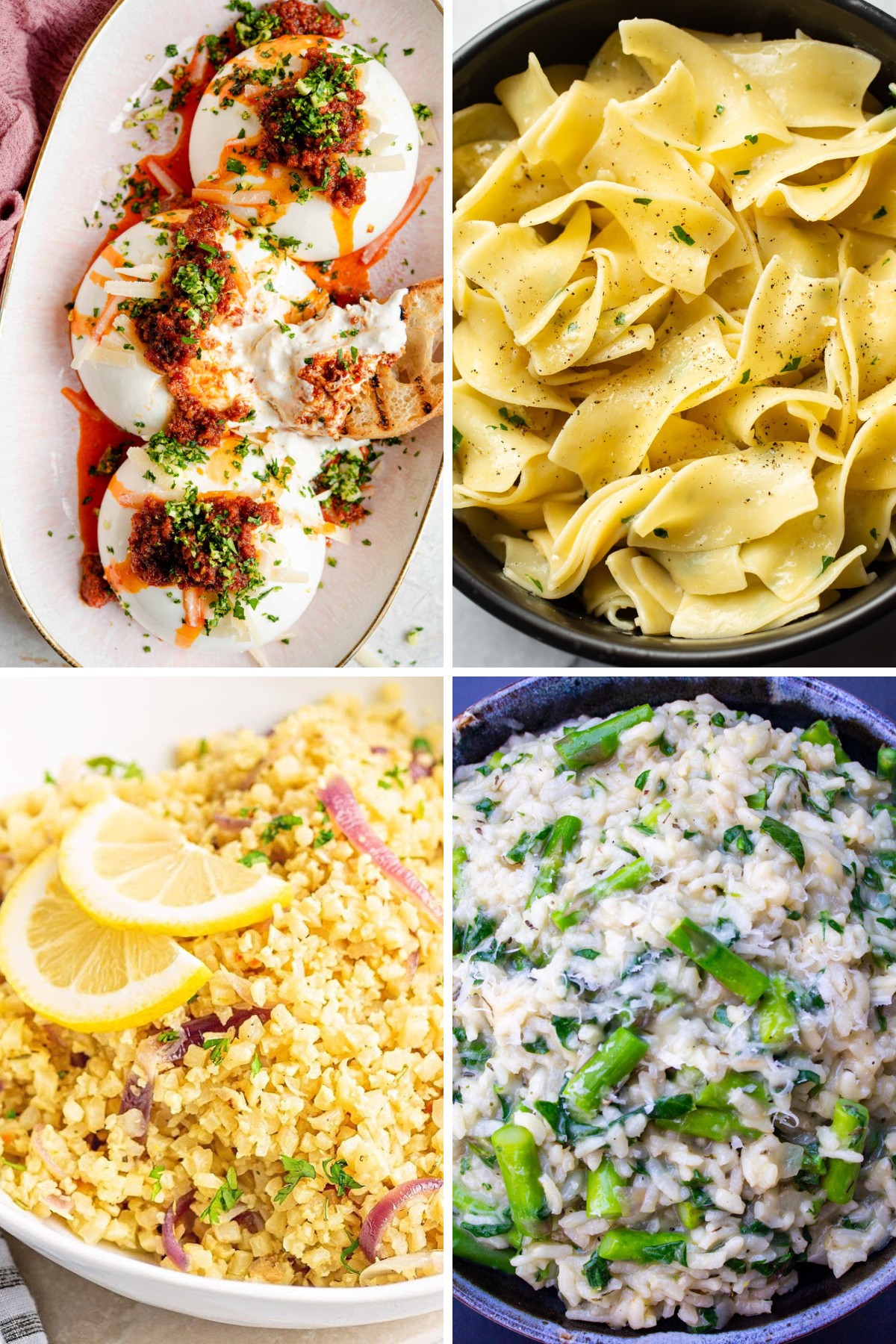 Why Share?
Being one of the most popular Italian-American dishes, chicken marsala deserves worthy accompaniments.
I'm sharing traditional and new side dishes for chicken marsala to make mealtimes nostalgic and less obvious.
These recipes are a great choice if you want to find new ways to switch up your menu.
What Is Chicken Marsala?
Chicken marsala is an Italian-American, classic dish featuring chicken and mushrooms in a marsala wine sauce.
It's typically cooked in a large skillet and served as a main dish.
Though there are different ways to make it, the key ingredients include chicken cutlets, olive oil, mushrooms, chicken broth (chicken stock), heavy cream, and fresh herbs like parsley.
Since the creamy sauce is quite rich with earthy flavors from the mushrooms, the best side dishes are usually quite simple.
More Chicken Sides Collections
If you enjoy these options, be sure to check out these other ideas to make a great chicken dinner.
Below are some foolproof chicken masala sides—easy to make and fun to eat.
What To Serve with Chicken Marsala (Best Side Dishes)
From appetizers to salads, browse a wide range of easy and delightful chicken marsala side dishes. They take the guesswork out of what to serve with chicken marsala and are some of my favorite recipes for a family dinner or dinner party.
FAQs
Can I serve Chicken Marsala with pasta?
Absolutely! A plate of al dente pasta, like linguine or fettuccine, pairs perfectly with Chicken Marsala. The pasta soaks up the delicious sauce and complements the flavors of the chicken. You'll find easy butter noodles and other pasta side dishes in this collection.
What vegetables go well with Chicken Marsala?
A side of roasted vegetables, like asparagus, broccoli, or carrots, is a great option for balancing out the richness of the Chicken Marsala. Not only do they add some color to your plate, but they also provide a healthy crunch.
Is it okay to serve Chicken Marsala with bread?
Yes! A slice of warm, crusty bread is perfect for sopping up any leftover sauce on your plate.
Can I serve a salad with Chicken Marsala?
Of course! A light, fresh salad with a tangy dressing, like a Caesar or balsamic vinaigrette, can help cut through the richness of the Chicken Marsala. It's a great option if you're looking for something lighter to balance out the meal.
What beverage should I serve with Chicken Marsala?
A glass of red wine, like a Merlot or Pinot Noir, is a classic pairing for Chicken Marsala. The wine's tannins help bring out the flavors of the dish and complement the rich, savory sauce. Alternatively, if you're not a wine drinker, a crisp apple cider or sparkling water can be a refreshing and delicious choice.